Overhauling Glenn McGrath has sparked a futile debate among fans who should simply be marvelling at the man in question
"Ithink constantly of those who were truly great," Stephen Spender wrote in the first line of his poem The Truly Great. You can probably guess what The Truly Great is about. It's about someone thinking about the truly great. Not the partly-great or the semi-great. And not just now and then, or in his spare moments. Stephen Spender isn't, for example, thinking about the truly great only intermittently, or occasionally considering those who used to be great. Frankly, and I don't know how much clearer he can be on this, he's thinking about the nailed-on Goats. And he's thinking about them all the time.
Perhaps Spender would have been better off waiting a few years and taking an interest in cricket or football. It is one of sport's innate obsessions to rank and rate and make lists, to think constantly about the ultimate, the No 1, to put a flag in the ground and claim the summit.
Naturally this kind of talk has swirled around Jimmy Anderson after his significant milestone this week, the pinged middle stump at the Oval that made him the highest wicket-taking pace bowler in Test history. It is an incredible feat in so many ways: a mix of skill, longevity, intelligence, athleticism and pure sporting will.
Naturally the superlatives have bubbled up. Alastair Cook called Anderson the greatest cricketer England has produced. The Barmy Army went with "the greatest fast bowler of all time" and posted a Twitter picture that raised some unfortunate memories of those photos before the World Cup of a sad-looking Lionel Messi sat next to an actual live goat.
There are a few things worth saying about this. Firstly, all comparisons across the ages are essentially pointless and reductive. I have a well-written, highly-authoritative 20-year-old book called The 100 Greatest Cricketers Of All Time which reads now like a fascinating prism of insularity and parallax error. Ten of 1998's top-15 Truly Greats are English. Just one of the top seven, Garry Sobers, played later than 1950. Ian Botham is ranked 60 places higher than Malcolm Marshall, which would have seemed a bit funny to Marshall and his teammates. You've got to get down to 23 to find the first Indian, Sunil Gavaskar. There are, of course, no women, despite the fact there is hard evidence to suggest women did definitely exist then.
Comparisons are silly then, hostage to imagined equivalence. But let's play this game for a second. Anderson can't be the greatest fast bowler of all time, or the greatest cricketer England has produced. The numbers are there to guide us. The greatest across all eras can't average 34 with the ball outside England. He can't only play one format. Is Anderson better than Glenn McGrath, who was a warrior everywhere and in every form, or Richard Hadlee, Wasim Akram, Dale Steyn, Alec Bedser? Who knows? Who cares?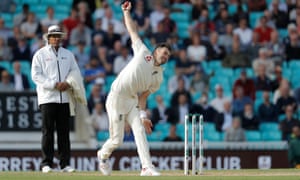 If Anderson must be given a degree of ultimacy among his fellow brilliant cricketers it seems to me he is perhaps the most beautiful to watch, with the most captivatingly cinematic level of skill, able to move his fingertips, to alter the angle of his wrist to tweak precisely the variables of trajectory, the basic loveliness of a cricket ball sent in that wondrous parabola. At times it is tempting to call him England's Warne rather than its McGrath, a cricketer whose best moments have the same dream-like sheen about them, a kind of magic.
But we're getting sucked back into it, the greatness shemozzle. And this is the main point. To obsess over this is to miss the most interesting thing about Anderson's career, the extraordinary way he has intersected with the game in front of him. The fact is Anderson's success coincides with a collapse in the standard of defensive batting, the ability to withstand exactly his style of high-craft, technique-testing attack. Anderson's own improvement from 2010 is well documented. But this has sharpened to an insanely fine point. In the last three English summers, Anderson now has 102 wickets at 16 apiece. It is extraordinary, a performance in his mid-30s to match anything, anywhere, to the extent you start to wonder a little about context.
Test batting standards have declined. Only six batsmen currently average over 50, compared to twice that number when the Age of Anderson began. Batting collapses have become commonplace, particularly in England. Sixteen times in the last six years Anderson has taken five or more wickets in a home Test when the opposition have failed to get past 175, way up on Hadlee, McGrath or Courtney Walsh, who saw genuine collapses far less often. But then, batsmen were tighter and more dogged, would prepare only for this, work relentlessly at defence rather than "ball-striking".
Preying on a weakness: this is what those who succeed in sport do. Perhaps the best inter-era comparison for Anderson's English summer feats are George Camsell and Dixie Dean, who scored 59 and 60 goals apiece in the two seasons after English football changed its offside rule, gorging themselves in that window of frailty.
Either way, it seems unfair to rank the age of Jimmy. It has simply been a privilege to watch that late-flowering brilliance. Greatness can wait. For now I'm thinking constantly about Sri Lanka and the Ashes, and about the pure, uplifting pleasure of that simple approach and easy action, a vision of craft and balance that fits here and now and is, in its moment, unimprovable.