Pink hair, plus-size models and an 'improvisation welcome' mood bring Savage x Fenty fashions to life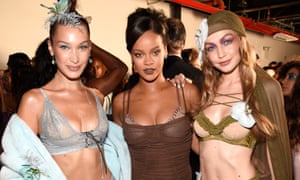 Anyone looking for an alternative to the increasingly outdated Victoria Secret's lingerie showcase would have found it in Brooklyn Navy Yard on Wednesday evening. There, Rihanna staged her Savage x Fenty fashion show for the lingerie label she launched in May.
The set here was like the garden of Eden sent into the future, with plants sprouting out of geodesic domes. It was populated by about 30 "Eves", in many different guises. With a sort of "improvisation welcome" mood, they threw shapes across the stage in Savage x Fenty designs.
Plus-size models and girls with pink hair shared the stage with the Hadid sisters and former Victoria Secrets angel Joan Smalls. Rihanna herself joined them for a finale, drawing much whooping from the crowd.
At show like this, clothes aren't really the point but, for the record, these had a louche, decadent vibe with lots of coloured satin and leopard print. Interpretations of underwear ranged from sports bras to full-on basques.
When Rihanna launched Savage x Fenty, it swiftly sold out both online and in stores. This show aimed to keep up the heat, with a livestream broadcast on YouTube and some pieces available to buy after the show.
Savage x Fenty follows Fenty Beauty, a makeup line which launched in 2017 and saw queues of women outside Harvey Nichols in London. Both brands champion diversity and body positivity, with Savage x Fenty available in seven "nude" shades and up to a 44DD cup size. Like the show, the initial advertising campaign for the brand featured a range of skin colours and sizes.
Female empowerment is the zeitgeist-friendly message of the musician's underwear range. "Women should be wearing lingerie for their damn selves," she said to US Vogue in May. "I want people to wear Savage x Fenty and think: I'm a bad bitch. I want women to own their beauty." The young women on the stage on Wednesday night were a great advertisement for doing just that.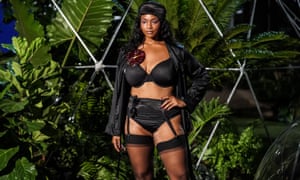 Rihanna, who earned $36m in 2016, is one of the most influential style figures in pop culture currently, much admired for her risk-taking and spontaneity. Such is her influence that when she appeared on the front of British Vogue for August, she single-handedly made pencil-thin eyebrows – a faux pas for many years – a trend again. Her 2016 collaboration with Puma on a Fenty clothing collection generated $1bn for the sportswear brand. Savage x Fenty is the latest way she is monetising that influence.
Marc Jacobs' show was earlier in the evening. It was scheduled for 6pm but was delayed by nearly 90 minutes, causing Anna Wintour and several other high-profile editors to leave before it started. There are already consistent rumours that the Marc Jacobs brand is in jeopardy, with stores in Europe closing earlier this year. This latest talking point isn't likely to stop the rumours.
The collection was a summer take on the designer's autumn/winter 80s odyssey. There were boxy suits, glitter tights and puffball cocktail dresses. Frills were extreme, with some dresses like the mille-feuille of the most luxurious of cakes, in sugared almond colours. These fabulous concoctions will no doubt be eaten up by stylists next season, though their wearability beyond the fashion shoot is untested.
Jacobs is now a celebrity as well as a designer. In April, he proposed to his partner Charly Defrancesco with a flash mob in a branch of Mexican fast food restaurant Chipotle. The video went viral. His summer since then has involved a birthday party with Debbie Harry bringing in his cake, and holidays with Kate Moss. This show is just the latest instalment for his many fans to absorb.