Warmongering football managers, a rampaging Cambridge professor, a ravenous space city, and a deep and meaningful round of golf … here are 10 great games to liven up your holidays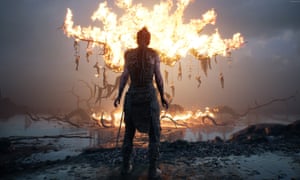 Final Fantasy XII: The Zodiac Age
For aficionados, 2006's Final Fantasy XII was a high point in the three-decades-old series. Part-directed by Yasumi Matsuno, whose intricate stories remain some of Japan's best, it involves directing your squadron of fighters like a football manager, specifying tactics and parameters of behaviour from the sidelines. This HD remaster of the original includes not only higher resolution artwork, but also a rerecorded soundtrack and, most enticingly of all, an overhauled management system, via which you grow your team according to strategy or whim.
• Released 11 July on PlayStation 4.
Splatoon 2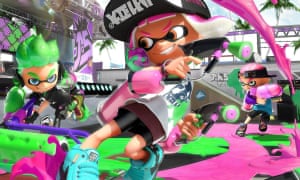 Splatoon was a surprise, breakout hit for Nintendo: a competitive sports game from a young team of designers that bespeaks philosophical changes at the 127-year-old Japanese company. Two sides compete to cover the majority of the pitch in paint of their team's colour. The paint is fired from splurge guns and stores are replenished every time you dive headfirst into the paint pools you have created. This is an unusually straightforward sequel from Nintendo, developed for Switch, a young console that has proved far more popular than its overlooked predecessor.
• Released 21 July on Nintendo Switch.
Aven Colony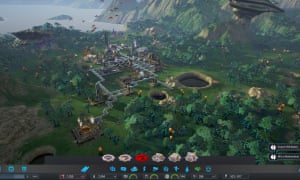 As our planet wheezes and slumps under our feet, our horizons turn to the exoplanets that might be able to support human life in the event of interplanetary emigration. Aven Colony is a city-building strategy game in which you work to set up such a colony, dealing with all the usual municipal headaches of power, drainage and food supply, as well as some uniquely alien challenges: plague-inducing dust storms, winters without solar power, gaseous eruptions and the odd attack from a local sandworm.
• Released 25 July on PC.
Tacoma
The Fullbright Company made its name with Gone Home, a nostalgic, affecting story wrung from 1990s-era Oregon domesticity. By contrast, this follow-up is far flung: set on a forsaken space station 200,000 miles from Earth, the game unfurls like a play as you follow the final recordings made by the crew, represented by brightly coloured silhouettes. As such, their final movements, interactions and conversations can be viewed from multiple perspectives.
• Released 2 August on PC, Xbox One.
Hellblade: Senua's Sacrifice
Post-traumatic stress disorder is well documented in modern service personnel. Hellblade examines the psychological effects of warfare on historical figures, in this case Senua, who must battle through the hellish visions she suffers following a Viking invasion. Senua's mental illness manifests as hallucinations and delusions, which form the substance of the game's levels. While this is a violent, hack-and-slash affair, the game has been made carefully, with consultancy from Paul Fletcher, a leading psychiatrist and a professor at the University of Cambridge.
• Released 8 August on PC, PlayStation 4.
Sonic Mania
Sega's Sonic the Hedgehog, once arch-rival to Nintendo's mascot Mario, has become an internet punchline; a rogue's gallery of DeviantArt images depict the character as a washed-up drunk, a shadow of his former, athletic self. Sonic Mania is another attempt by Sega to revitalise the character by recapturing his glory days in the mid-90s. The game reimagines classic Sonic levels, expanding them with new hidden paths and areas, while the character moves with a slick alacrity we haven't seen in ages.
• Released 15 August on PC, PlayStation 4, Nintendo Switch, Xbox One.
Uncharted: The Lost Legacy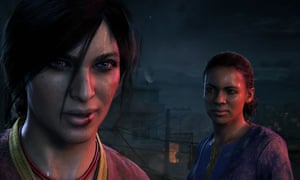 The first standalone chapter in Naughty Dog's tear-jerkingly lavish, Saturday matinee-style adventure series follows two women as they race a notorious war-profiteer to recover a fabled Indian artefact. Last year's Uncharted 4perfected an increasingly rarefied style of cinematic adventure game, with all the extravagance and expense of a Spielberg blockbuster. Any opportunity to experience more of Uncharted's peerless direction and execution while it remains a profitable undertaking is welcome.
• Released 22 August on PlayStation 4.
Mario + Rabbids Kingdom Battle
One of the most moving moments at the E3 video game conference held in Los Angeles this month was the sight of David Soliani, creative director of Mario + Rabbids Kingdom Battle, weeping with pride as Shigeru Miyamotoextolled the game's virtues on stage. This collaboration between the French publisher Ubisoft and Japan's Nintendo is a curious mashup, not only of each company's mascots, but also of these brightly coloured characters with chess-like strategy-game rules.
• Released 29 August on Nintendo Switch.
Everybody's Golf
While EA struggles to find a new identity for its marquee golf series post-Tiger Woods, Sony's saccharine, endlessly riveting approach gains further ground as the quintessential video game take on the sport. Don't be fooled by the bobble-headed characters and the fizzing onscreen effects: this a deep and meaningful representation of golf, now with online game modes and the kind of free-roam courses that could surely entice a president to serve the remainder of his term on the fairway.
• Released 29 August on PlayStation 4.
Life Is Strange: Before the Storm
Another piece of keenly observed young-adult interactive fiction, this follow-up to the 2015 French game Life Is Strange is a careful depiction of a teenage girl caught in a maelstrom of bereavement, while simultaneously struggling to find her identity in the confusion of adolescence. Set against a backdrop of jobless, small-town America, the plot gently bends according to your decisions. Regardless of how you direct the drama, the game promises to open a window to a time through which each of us must pass, rarely unscathed.
• Released 31 August on PC, PlayStation 4, Xbox One.