he Duchess of York has become an unlikely style inspiration this year. And there's more to it than just hair accessories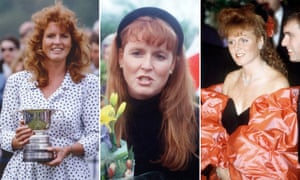 Fashion loves a royal. If the Duchesses of Cambridge and Sussex have the kind of mass-market appeal that means anything they wear will sell out in hours, Princess Diana was the cult catwalk reference at influential label Off White last season (she's arguably the reason that cycling shorts have become a thing again). For autumn 2018, the focus has shifted – slightly to Diana's left. This season is all about Sarah Ferguson, the Duchess of York, AKA Fergie. Here are five trends coming your way that can be traced back to her style.
Padded alice bands
Yes, the much-derided alice band – the classic accessory of the 80s Sloane Ranger – is creeping back into fashion. Fergie wore hers as big as they go, perched on top of those ginger locks. Glamour magazine has declared 2018 the "year of the headband", with the likes of Rita Ora and Alexa Chung big fans. Fashion influencers are into the Fergie-like padded designs from Batsheva. Under no circumstances brush your hair.
Skirtsuits
Until very recently, wearing a skirt suit would run the risk of ostracisation in fashion insider circles. No longer. The skirt suit is one of the biggest trends of AW18 – but don't think the kind of sleekly anonymous thing Theresa May wears. Instead, look to 80s Fergie: puffed shoulders, sweetheart necklines and gloves are all allowed.
Polka dots
It is fair to say Fergie and Slick Woods probably don't have that much in common. But the model and muse to Rihanna and Kanye West wears polka dots on Elle's September cover; a move that could, quite feasibly, have been inspired by the former royal. In her heyday, the duchess was a big fan of polka dots, wearing them to Tatler-approved places such as the polo.
Big hair, flicked to the side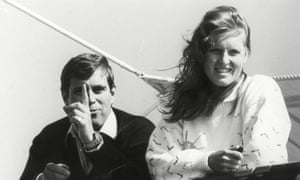 There's a 1989 Martin Parr picture taken of the Badminton horse trials, with Sloane hair captured particularly well. Several earnest young women are captured sweeping their hair back off their faces. When she wasn't sporting an alice band, Fergie was an early adopter of the windswept, fresh-from-an-equestrian-sporting-match side fringe . She has passed it down, too – her daughter Beatrice has Sloane hair in Vogue's September issue. Amy Adams in Sharp Objects is also a reference.
Extreme sleeves
When Fergie went out, she went out-out, certainly when it came to sleeves. Her high-80s, can-you-get-through-the-door sleeves are like catnip for designers, including Saint Laurent's Anthony Vaccarello and Michael Halpern, who like to dress wealthy millennials as if going for a night out at Annabel's. The nightclub is back, after all.