Brilliant Ding wins 13-10 to set up semi-final against Mark Selby
•
 World champion Selby earlier hit 143 in his 13-3 rout of Marco Fu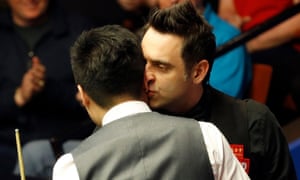 Ronnie O'Sullivan denied he snubbed the chance of a maximum break as he crashed out of the Betfred World Championship to Ding Junhui. Chinese superstar Ding brilliantly saw off the five-time champion, winning through 13-10 and setting up a clash with Mark Selby in the semi-finals – a repeat of last year's final match-up.
O'Sullivan made a thrilling 146 break – just the third in Crucible history – as he battled in vain to stay in the tournament. And by taking pink from the 13th red when a perfect 147 looked a formality, O'Sullivan sparked debate over whether he had spurned the opportunity because of the low prize-money on offer.
O'Sullivan said: "I was playing for the black but I just didn't get on it. I don't take this stuff too seriously. I like to entertain, I like to put on a good show, and I like to have fun and I like to enjoy myself. In a world where everything's so serious, I like to make it fun."
Twenty years ago O'Sullivan pocketed £165,000 for a World Championship maximum that took just five minutes and 20 seconds, but this year the 41-year-old's reward would have been 15,000, made up of a high-break prize of 10,000 and a 5,000 147 bonus. "Let's just say I don't think he was giving it 110%," said seven-time world champion Stephen Hendry, of O'Sullivan's efforts to get on the black for a 13th time.
Before O'Sullivan played for the pink, Hendry had revealed his own surprise at the relatively modest reward on offer, saying on the BBC: "It won't be the prize he's thinking about, because that's disappointing."
When O'Sullivan was pressed on the financial rewards for the 147, and whether he was trying to make a point, he added: "I'm just having a bit of fun. Let's not go down that route, let's just enjoy the match and wish Ding the very best."
At last year's Welsh Open, O'Sullivan turned down the chance of a maximum – snooker's greatest single-frame exploit – when he learned the prize-money was £12,000. He said at the time he "didn't think the prize was worthy of a 147", and was criticised by World Snooker chairman Barry Hearn.
At the 2010 World Open in Glasgow he had to be pressed by referee Jan Verhaas to pot the black to complete a maximum after being told there was no bonus on offer. Hearn, who has this month flatly rejected O'Sullivan's claims of "bullying" over a disciplinary dispute, was by coincidence paying the Crucible a visit on Wednesday.
Hearn was in no mind to stoke up another row with O'Sullivan over the 146 though, saying: "It's his choice. He can do what he likes. If he doesn't want a 147, don't have a 147."
The masterful break from O'Sullivan had trimmed his arrears to 11-9, but Ding would not be denied and finished off with an ice-cool 117, his third century of the match. O'Sullivan offered 30-year-old Ding a warm hug in the arena.
"He's a special lad, a beautiful guy, and I know his family really well so I know he comes from good stock," O'Sullivan said. "He's all good, Ding. He wants to win this title so bad."
O'Sullivan related the match to the famous Masters final against Ding in 2007, when a well-beaten Ding was left in tears after struggling with the rowdy crowd. "Ten years on from that match he's hugging me, beating me, whereas the last time it was me beating him, hugging him," O'Sullivan said.
"It's a decade on, he's in a great place. I just wish him all the best."
A thrilled Ding said: "I played great, kept my form from the first frame to the last frame.
"I put Ronnie under pressure. I don't know if Ronnie felt the pressure but I tried to do it."
Explaining what O'Sullivan had told him afterwards, Ding added: "He just said that I looked a different player, how I looked stronger.
"I'm proud to have support from Ronnie. Every year I'm here trying to win the title. This year I have more confidence to come through."Meanwhile, John Higgins and Barry Hawkins booked their spots in the last four with victories over Kyren Wilson and Stephen Maguire respectively. Higgins sympathised with Wilson, whose cue tip split in the first session of the match as the Scot recorded a 13-6 win. "He was desperately unlucky," Higgins said.