After winning his first three matches he oversaw the country's first competitive home defeat for 15 years as England won 3-2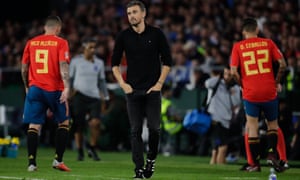 The inquiry began way before the game had finished. The stadium clock had not yet reached half an hour when to the right of it, high in the Benito Villamarín, England's drenched fans began to chant: "Are you Scotland in disguise?!" They were not, of course, but nor, it seemed, were the team down below Spain. Luis Enrique has been swift to quieten comparisons to that Spain – the team who won three tournaments in a row, European, world and European champions – but nor, at that point, were they this Spain, the team who had recovered so well since Russia.
This might yet be written off as an accident, and Spain's second half will ease some of those worries, but for half an hour or so the optimism was washed away in the rain. Three games, three wins and 12 goals ran Spain's record since the summer, Luis Enrique admitting that things had gone better than he could have dared imagine. Now, things were going worse than he imagined too and it would get worse before it got better. Raheem Sterling had scored the first, smashing into the top of the net; Marcus Rashford had just made it 2-0; and then, 10 minutes later, Sterling got a third. "The first half was awful," Luis Enrique admitted. "The normal thing would have been for me to kill them at half-time."
Spain's players wore lost looks. It was not supposed to be this way. They had gone 28 games without losing – they departed Russia unbeaten – and had not lost a competitive game at home for 15 years. It may be too much to ask this team to emulate the one who won it all between 2008 and 2012 but it is not too much to expect them to compete. For much of the first half they did not. "We gifted the first half; the positive thing is that we reacted in the second," Sergio Ramos said. "It's important people believe in us again."
Spain scored twice, Ramos getting the second but it was the game's very last touch. And so Spain were defeated at home for the first time since Greece came in July 2003, Stelios Giannakopoulos scoring. Marco Asensio was seven that day. Giannakopoulos was about to join Bolton; aged 44, he is a fireman now. It is even longer since England came and won or even scored: Sterling's predecessor was Gary Lineker.
Before kick-off, while the players lined up, Jordan Pickford faced some last-minute shots and he did not have long to wait for his first real save, the ball shooting up off his shoulder after five minutes. At that point this seemed likely to go Spain's way, Asensio playing a pass behind Iago Aspas, Jonny Otto bombing up the right, and Thiago bending just wide. There were three wonderful touches from Thiago Alcântara.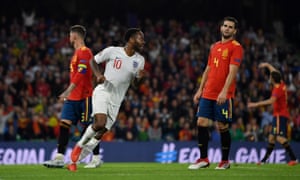 But when England scored, Spain seemed to disintegrate. The goal was brilliant, England drawing Spain in and then racing beyond them. "Press high" is one of the commands on which Luis Enrique insists, an essential element of their identity, and Spain did that, although it was odd to see Sergio Busquets as the vanguard, so close to Pickford. The goalkeeper's pass sliced right through Spain, space opening up – and what followed was superb.
It was from England's perspective, at least. For Spain there was a lack of tension, alertness and defensive attention that was repeated twice more – and beyond. Asensio tried to connect with an overhead kick and missed the ball and his defenders were suffering a similar fate. For the second goal Harry Kane was alone against Ramos and Nacho, beating both to deliver a pass behind Jonny. The third, neatly made by Ross Barkley and Kane, began with Busquets giving it away. Every time England ran, Spain looked vulnerable. Marcos Alonso and Jonny struggled with Rashford and Sterling; Barkley ran through; Spain seemed disconnected. At one point there were even ironic chants of olé from England's fans.
Spain needed half-time and they needed changes. Dani Ceballos was introduced and then so was Paco Alcácer. Top scorer in the Bundesliga despite not having started a game, scorer of two against Wales, he came on – and scored with his first touch. There was half an hour left and, with Alcácer averaging a goal every 24min 30sec, that did not seem far-fetched. Spain should have had a penalty when Pickford pulled back Rodrigo, Luis Enrique raging on the touchline. There was edge now, competitiveness, momentum, aggressiveness, and pride, all those qualities absent before, the ones the new manager represents.
There were shots too. Alcácer had two more, one that rebounded off Thiago from close range, another that went over. Álvaro Morata tried, too. Asensio accelerated, England tired and there was noise around this stadium, once reserved for Spain's big nights. "España!" they chanted, the pitch inclined Pickford's way. They lacked clarity but there was character. "The manager asked us to be ourselves," Dani Ceballos said and this was more like Spain now.
It was also late, though; when Alonso hit the bar there was only a minute left and, when Ramos scored seconds after, there was no time for any more.