Lucy Walker's documentary usefully fills in gaps left by the wildly successful 1999 Wim Wenders film about the band and its few ageing survivors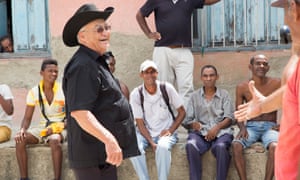 This thoughtful if somewhat scattered documentary takes a last look at the hugely influential Buena Vista Social Club phenomenon, a project that started out as an album recording tracks by ageing Cuban musicians brought together by British impresario Nick Gold and produced by American musician Ry Cooder. Director Wim Wendersmade a wildly successful documentary in 1999 that helped increase sales the album, while the artists it featured (most of whom had never worked with each other before) became near household names in metropolitan, world-music-curious households across the world.
Here, director Lucy Walker interweaves interviews with many of the surviving band members and archive footage to provide biographical, political and historical background. That usefully fills in gaps the first documentary left unsaid, but then part of the original's charm was its present-tense focus on the music. It's especially sad to see stars such as Ruben González and Ibrahim Ferrer on their last legs, however heroic their efforts might be to keep on playing. As with Wenders's film, silken-voiced Omara Portuondo stands out as not just one of the greatest musicians but also a charmer whose little-known backstory is a kind of microcosm of Cuban history.