The strongest storm to hit the US in more than 25 years, and the most powerful on record in the Florida Panhandle, has headed inland after a furious onslaught that killed two people and tore apart buildings.
Hurricane Michael's 155mph (250km/h) winds at landfall were only 5mph short of category five status, making it the US's strongest storm since Hurricane Andrew ravaged southern Florida in 1992.
Michael sprang quickly from a weekend tropical depression, going from a category two on Tuesday to a category four storm by the time it came ashore.
Landfall happened just north of Mexico Beach, Florida, a small coastal town 25 miles (40km) east of Panama City with a population of 1,000, at about 1.30pm local time on Wednesday. According to the National Hurricane Center (NHC), the storm blew in with sustained winds of 155mph and travelling at 14mph.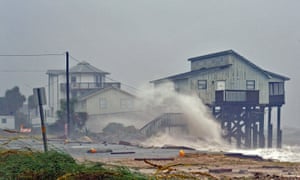 Television pictures showed broken and uprooted trees and downed power lines. Roofs were peeled away and swept into the air, and homes were split open by fallen trees. Twisted road signs lay on the ground. Palm trees whipped wildly in the winds.
Vance Beu, 29, was staying with his mother at her home in a complex of single-storey, wood-framed buildings, where they piled up mattresses for protection. A pine tree punched a hole in the roof and his ears popped when the atmospheric pressure fell. The roar of the winds, he said, sounded like a jet engine.
"It was terrifying, honestly. There was a lot of noise. We thought the windows were going to break at any time," Beu said.
Louis Uccellini, the director of the National Weather Service, told CNN: "When people … start making their assessments, they're going to realise just how powerful a category four storm can be. You're going to see a very extensive area of damaging winds all the way into central Georgia."
Michael weakened to a tropical storm as it moved inland, but is on course to hit parts of Georgia, and North and South Carolina, still recovering fromHurricane Florence last month.
The NHC in Miami said the eye of Michael was about 30 miles south-west of Macon in central Georgia at midnight on Thursday. The storm had sustained winds of up to 70mph.
Brock Long, the administrator of the Federal Emergency Management Agency (Fema), said: "The citizens of Georgia need to wake up and pay attention. The bottom line is it's going to be the worst storm south-west and central Georgia has seen in many decades.
"They need to be prepared, not only in Florida but Georgia as well, to see the power off for multiple weeks."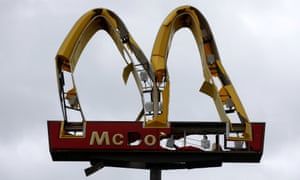 More than half a million people were ordered or advised to evacuate as Michael, fuelled by the warm waters of the Gulf of Mexico, closed in on Panama City, bringing with it a storm surge of up to 14ft. The storm has already been blamed for 13 deaths in Central America and the Caribbean.
Michael triggered flash floods and mudslides earlier this week in mountain areas of western Cuba. Six people died in Honduras, four in Nicaragua and three in El Salvador, as roofs collapsed and residents were carried away by swollen rivers.
No recorded category four storm had ever made landfall in the Panhandle, and Michael's vast size meant the effects would be felt along the coast from New Orleans to Tampa Bay, and inland as far as the Carolinas.
The fast-moving tropical cyclone's outer bands were already causing torrential rain and flooding in Panama City Beach and Apalachicola by mid-morning on Wednesday.
The two reported deaths in the US were a man in Gadsden County, Florida, killed after a tree crashed through the roof of his home, and a child in Seminole County, Georgia, believed to have been killed after something fell on a house he was visiting. Authorities said details about the child's death were still unclear because they had not been able to reach the scene.
Florida authorities had warned anybody who chose not to evacuate they would be on their own, with conditions already too hazardous for emergency workers.
"Nobody's coming out to save your life," the Florida governor, Rick Scott, said on CNN. "We've done everything we can to tell people to evacuate and some people have unfortunately chosen not to. I'm scared to death if there's any kids who didn't make that choice on their own."
More than 20 million people in five states remained under either a hurricane or tropical storm warning, while areas in North and South Carolina flooded by Florence braced for more rainfall.
Scott, whose environmental record has been criticised, had earlier warned a tempest of this strength had not hit the area in more than a century. Experts have said human-induced climate change is increasing the regularity and intensity of monster storms.
"Communities are going to see unimaginable devastation," Scott said.
Greg Brudnicki, the mayor of Panama City, said many residents had ignored warnings to evacuate.
"Two-thirds of the county, 120,000 people, were told: would you please leave, and as of last night, we probably had only about 25,000 leave," he said.
"So the people that are staying, it's all built on years and years of complacency because we said it's gonna be bad, it's gonna be bad for years, and it never turned out to be. [But] the odds are that eventually we would get a bad one, and we've got a bad one."
On Tuesday, Donald Trump approved a major disaster declaration request for Florida, freeing federal resources and money for recovery efforts. In Georgia, more than 90 counties remained under a state of emergency and 1,500 national guard personnel were activated.