The author of The Joy Luck Club revisits her mother's remarkable story in a book that also uncovers traumatic childhood memories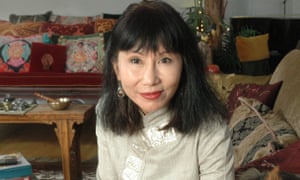 While few books of the kind termed "literary" come quickly or easily into the world, Amy Tan's autobiography had an especially complicated genesis. Tan calls it an "unintended memoir", one born of her editor Daniel Halpern's suggestion that, out of the thousands of emails she'd sent him while writing her novel The Valley of Amazement, a book could be shaped. She disagreed. He convinced her, but she then decided the emails on their own weren't insightful enough to fill a book.
After a year of uncertainty, Tan and Halpern devised a plan that could lead to a book while still preserving some of the spontaneity of email: she pledged to send him at least 15 pages each week of unplanned autobiographical prose. The use of a handful of words was prohibited: "memoir", "finished manuscript", "new book" and "deadline". Tan and Halpern named these emailed instalments not chapters, nor essays, but the less threatening "cantos".
The cantos gave rise to "a potluck of topics and tones", to which Tan eventually added journal excerpts, prologues from abandoned novels and letters to and from her Chinese-born late mother. She also pored over photos, visas, school papers, death certificates, address books, diaries and her father's sermons. What results is a variegated collection of gradually self-revealing entries: "I am intermittently aghast that everything I have written will actually be an open book," she notes. So, why did she continue? Tan's fellow American Noy Holland calls the urge to write "the reckless inner need from which art issues"; within and despite the seemingly desultory structure of the memoir, leitmotifs of Tan's reckless inner need soon become evident.
Where the Past Begins is subtitled "a writer's memoir", and it's worth mentioning what Tan doesn't include. There is very little mention of published books; instead, she elaborates on the act of writing, the mechanics and results of her own imagination. She explains the central importance of metaphors, the stories her mind spins while she listens to music. "Spontaneous epiphanies always leave me convinced once again that there is no greater meaning to my life than what happens when I write," she says. Tan's epiphanies and revelations often revive suppressed memories: "as if I were seeing the ghost of my mother, bringing me a sweater she had knit for me when I was five".
The author's mother features in several such revelations, as does the terrible pain she both survived and caused. In a writers' workshop, Tan's teacher asks the class to write down a moment when they believed they would die. She finds herself sobbing and, to her surprise, tells of a time her mother chased her with a cleaver, threatening to kill her, her younger brother and herself. "We all go to heaven together," she said, until 16-year-old Tan shouted that she wanted to live. Later, disbelieving that she could have forgotten the incident, Tan calls her mother to ask if it happened. Her mother confirms it "without any remorse in her voice".
"I want to find those moments that my subconscious has hidden," Tan explains. "What's in there is what made me a fiction writer, someone who has an insatiable need to know the reasons why things happened." Here, too, much of her questioning is focused on her mother's life, parts of which might sound familiar to readers of Tan's fiction. In the stories the author has heard, her mother grew up as the daughter of a rich man's concubine, who killed herself when he broke a promise about their son – or wait, was the suicide just supposed to be a scare, and the death an accident? Tan's grandmother became a concubine in the first place because the rich man raped her at knifepoint – or did he? Were they lovers first? Tan circles obsessively around these open-ended stories.
Then, when Tan transmutes some of her mother's stories into fiction, her mother not only gives her blessing but discovers such verisimilitude in the details that she wonders if her own dead mother's ghost has been visiting Tan, guiding her imagination. "We wrote letters in English when we were far apart," Tan says. "I wrote a book to show her how close we truly were."
The writer also brings what she identifies as her sense of "wonderment" to the subject of her father, who died when she was 15. He became an idealised figure, one who recurs in her fiction as the good father who dies young. But after the US presidential election of 2016, she realises she's not sure how her father, an evangelical Christian preacher, would have voted. "Would a gulf of inharmonious beliefs have separated us?" she asks. This need to divine her father's hypothetical political beliefs animates her investigation into who he really might have been.
In an old, wonderfully moving letter to Tan her mother writes: "I felt you love me so much you wanted me be happy to find every way to please me. I understand you deeply, but you work so hard I worry for you. Is it worth? You don't have to work so hard. Sit all day in front of the computer, squeeze every bit of your brain, it is too hard on you." Is it worth? To her many admirers, and to Tan, yes.
• Where the Past Begins by Amy Tan (4th Estate, £18.99). To order a copy for £16.14, go to guardianbookshop.com or call 0330 333 6846. Free UK p&p over £10, online orders only. Phone orders min. p&p of £1.99.