The Pulitzer-winning poet on a captivating animation, a powerful opera and a hideaway in Alaska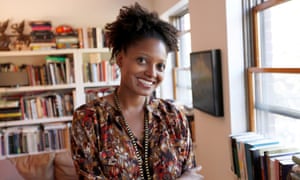 Born in Massachusetts, poet Tracy K Smith studied at Harvard and Columbia universities. Since 2003 she has published three award-winning collections, and in 2012, Life on Mars won a Pulitzer prize for poetry. In 2015 she published her memoir Ordinary Light, and in 2017 was named US poet laureate. She currently teaches creative writing at Princeton. Her fourth collection, Wade in the Water, published earlier this year by Penguin, is shortlisted for best collection at the Forward prize, announced on Tuesday.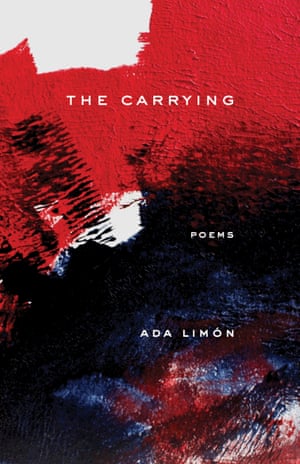 1. Poetry
Ada Limón's The Carrying
Ada Limón is a poet of ecstatic revelation. Her poetry feels fast, full of detail, often playful, and driven by a conversational voice. This book represents a powerful deepening of the poet's perspective into themes of loss, chronic pain, fear of the 21st century's ongoing devastations, concern for the natural world. It's a book of deep wisdom and urgent vulnerability, driven by language that feels not only beautiful but permanent and powerfully wrought, like a mountain. It leads you to the beautiful bright mountaintop of language, then guides you gently down into the rocky valleys of a conscious human heart.
2. Film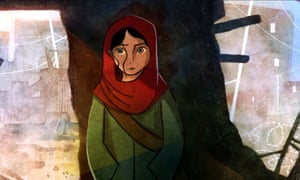 The Breadwinner (dir Nora Twomey, 2017)
This is the story of a girl named Parvana who lives in Kabul with her family. One day the Taliban arrests her father, a former schoolteacher, under false pretences. As women and girls aren't permitted to go out without a male family member, there seems to be nothing Parvana, her mother, baby brother, and older sister can do. The film lays bare the cruelties of a repressive regime in simple, direct scenes. When Parvana begins to dress as a boy and find the freedom to support her family and go looking for her father, a viewer feels hope and deep unrest. I'd give a thousand glib, quippy, violence-obsessed action movies for just one or two more of these thoughtful, beautiful, quiet, urgent stories that push us into a deeper and more mindful engagement with the actual world.
3. Photography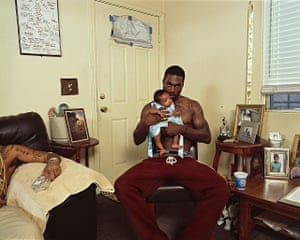 I can't stop thinking about the way this photo's subject, a twentysomething man holding a baby, is looking into the camera. He is young, shirtless, black, sitting in his home, in the way that Lawson's subjects often are. Half in frame, there is the bare arm of a friend. Lawson captures a sense of power and presence in her subjects; she celebrates and honours a kind of unretouched blackness (the room has barely been tidied up; a package of cookies sits on a coffee table), which feels like a testimony to our lives in all their facets. America needs to look at this photo and let itself love this man, this perfect, beautiful, living man.
4. Opera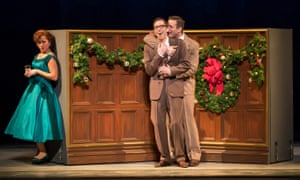 Gregory Spears's Fellow Travelers
Based on the novel by Thomas Mallon, Fellow Travelers follows the relationship between two government employees in McCarthy-era Washington, DC. The red scare, which stirred up frenzied rumours about Soviet agents having infiltrated the US state department, happened in tandem with a "lavender scare", which caused outings and mass firings of gay and lesbian people. This is at once the public story of reckless, government-fuelled homophobia, and the intimate story of love dawning between younger Timothy and older, rakish Hawk. Spears's minimalist composition is such a powerful vehicle for these feelings of being found and seen and ratified by love. A driving, insistent energy buoys the narrative's plunge into betrayal. Rhythmically, tonally, the opera balances a vast interiority with the urgencies of a public frenzy.
5. Place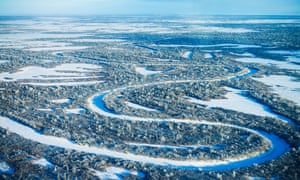 Bethel, Alaska
Bethel sits in the western part of Alaska, on the tundra. On a recent trip there, I took a boat down the Kuskokwim River, sighting a moose along the way, to Napakiak and Napaskiak, two Native Alaskan communities where subsistence fishing is a predominant lifestyle. The quiet, wide-open sky, mirrored in the river, both with their various shades of blue and grey and green, opened new regions in my mind and heart. That evening, I had the privilege of talking about poetry with folks from Bethel and surrounding areas. We got on to some big topics.
6. Nonfiction
Zora Neale Hurston's Barracoon
The previously unpublished account of Hurston befriending Cudjo Lewis, the last living man with first-hand memory of capture in Africa and captivity in Alabama, is nothing shy of a miracle. Chronicled with Hurston's characteristic intelligence and aplomb, as well as with a watchful, reverent quiet, Barracoon is a testament to the enormous losses millions of black people endured both in slavery and freedom, a story that is urgently relevant to every American, and to America's ongoing public crisis around the topic (or the fallacy) of racial difference.