Playwrights and actors write letter claiming NTW is ridding itself of its theatrical identity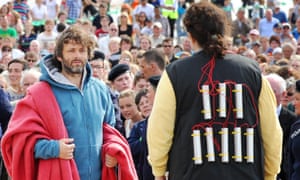 Forty playwrights and actors have launched a withering attack on National Theatre Wales (NTW), accusing it of favouring English artists and companies over homegrown or home-based ones.
In an open letter, the Welsh artists claimed NTW, which has been celebrated in the past for imaginative productions staged on beaches, mountains and factory floors, seemed be taking pride in "ridding itself of a theatrical identity and even its nationality".
They also argued the company was staging too few productions, pointing out that despite receiving about £1.5m a year from Arts Council Wales, only one project was listed for the rest of 2018 – an exhibition of photographs taken with disposable cameras.
NTW has won praise in previous years for productions such as The Passionstarring Michael Sheen, set in and around Port Talbot in south Wales, and The Radicalisaion of Bradley Manning, which opened at Chelsea Manning's former school in Haverfordwest, Pembrokeshire.
But the writers of the letter claimed NTW had lost its way, citing a production called English, which was staged in the spring.
It was billed as "an exuberant A to Z of language and identity" but the writers said it failed to address the crucial and fundamental question of what the English language meant in Wales.
The letter added: "How those two languages [English and Welsh] forge our identity is arguably the defining characteristic of our nation. And yet 'English' erased this crucial aspect of the story of English in Wales entirely and deliberately."
The writers expressed anger that a company based in Manchester, Quarantine, was brought in to create the show and another based in the north-west of England has been brought in to deliver a flagship project in 2020.
The letter added: "Non-Welsh and Wales-based artists and companies need to be world-class and engaged only to support a Welsh or Wales-based artist. The practice of engaging companies and artists outside of Wales to respond to Welsh stories has to end."
One of the signatories, the Cardiff playwright Lisa Parry said English caused enormous hurt and anger within the community. "It's an anger that hasn't been acknowledged by NTW," she said. "They don't seem to want to engage with the country for which they are meant to be making work.
"That's not parochialism. A playwright lives and breathes their community and can reflect and engage with its stories and concerns through lived experience. But it's as if NTW doesn't want to show that truth. The talent here is phenomenal and yet NTW won't engage with it."
Mari Izzard, who is rehearsing Lord of the Flies at Theatre Clwyd in Flintshire, north Wales, said: "Their decision-making process is making us feel that Welsh/Wales-based artists' work isn't good enough. Wales-based and Welsh artists should be at the priority, otherwise you may as well not have Wales in the title at all."
The playwright Gary Owen said he attended the final night of English in Cardiff. "There were 34 people in the audience and nine were NTW staff members or crew members. Aside from the content of the show, that tells you something is going badly wrong."
Another writer, Alun Saunders added: "Wales has an incredibly rich culture and history; our stories are now too often being told by those with little or no knowledge or vested interest in them."
A spokesperson for NTW said it was aware of the letter and claimed much of its content was "factually incorrect". "Our door is and always has been open to artists," it said. "Our artistic director had already made plans to meet many of the letter's signatories in November, but if they would prefer to meet sooner, we are more than happy to do so." NTW declined to identify what it believed was incorrect in the letter.
The Arts Council of Wales, NTW's main funding source, said it welcomed the debate. A spokesperson said: "We are aware that since its creation, National Theatre Wales has existed to challenge everyday notions of what theatre could, and should be, in the 21st century and has done this boldly and imaginatively."