This week's roundup also features kayaking over a waterfall, a one-second heavyweight bout and the perfect flip throw-in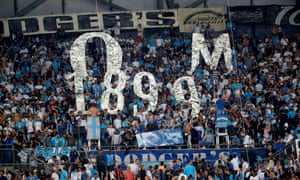 1) The Premiership rugby union season kicks off this weekend. There were some brilliant tries last season. Here are eight of the best of them. There were some shuddering tackles too. Saracens are the team to beat in 2018-19, having been crowned champions for the fourth time after beating Exeter 27-10 with a sizzling display at Twickenham in June. Relive highlights here. Sarries won the Premiership Rugby Sevens final this summer too, a tournament that was arguably more fun when rugby league teams such as Wigan entered it. Here's Shaun Edwards's Wigan silencing Twickenham by humbling Lawrence Dallaglio's Wasps in 1996.
https://www.theguardian.com/sport/2018/aug/23/kevin-prince-boateng-raps-vuelta-memories-and-managerial-meltdowns
2) A young Marseille fan is invited to take part in the ceremonial kick-off against Rennes, which involves kicking the ball once, but instead goes rogue and dribbles the length of the pitch, scores and celebrates with top-off wild abandon. And here's an absolutely sensational strike from the Northern Premier League, where Pablo Mills has probably wrapped up Mickleover Sports FC's goal-of-the-season award before the end of August.
3) Curtis Harper lasted only one second in his heavyweight bout with against Efe Ajagba but not because he was knocked out. He stormed out of the ring as soon as the bell rang in a protest over money, according to the PBC on-air reporter.
4) If you've always wondered what's it like to kayak over a 105-foot waterfall, then wonder no more. Here's Adrian Mattern, from Germany, casually taking the plunge over Alexandra Falls in Canada.
5) Incredible ping-pong wizardry from a tournament in Finland, where all the players appear to have been styled by Wes Anderson.
6) Emil Sandoi, the coach of Argres Pitesti, who play in the Romanian second division, uses a hands-on approach to stopping the opposing team's winger – and gets sent off.
1) The world's highest rock climbing wall.
2) Dynamo Moscow's Vladimir Rykov put in an early contender for the Fifa Puskás Award with this sublime strike from well inside his own half.
3) Fresno State's Chloe Chedeste with the perfect flip throw-in. Iran's Milad Mohammadi take note.
4) The Chicago Dogs manager, Butch Hobson, had an epic meltdown last week, reacting to his ejection from the game by embarking on a pretend home run.
5) It's fair to say the Ajax fans were up for their Champions League playoff with Dynamo Kyiv.
Spotters badges: whobroughtoranges, TheCedarRoom, JazzHorse, Scholtg
Guardian YouTube football channel
Guardian YouTube sport channel