Champions League final marked a beginning not a dismal defeat and the manager expects to see positivity and belief to the fore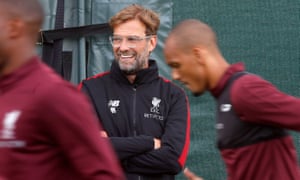 There was a time, and it was not so long ago, when the sight of such talents as Neymar and Kylian Mbappé joking around Anfield on the eve of a Champions League tie would have pointed to Liverpool being the underdogs against Paris Saint-Germain.
That time has gone: 115 days since Kiev it is not the despair of defeat that lingers around Jürgen Klopp's team but the belief the exhilarating run to the final last season marked a beginning. "It is a different club to the club I joined," the Liverpool manager said on Monday.
He was not referring to the main stand that opened five months after Thomas Tuchel's previous visit to Anfield when, as the Borussia Dortmund manager, he was dumbfounded by Liverpool's stoppage-time victory in the Europa League quarter-final. Tuesday's referee, Cuneyt Cakir, coincidentally was also in charge on that occasion.
Klopp was talking of the belief, the positivity and the reputation that last season's Champions League campaign helped Liverpool rediscover.
The manner of the defeat by Real Madrid could have left lasting scars and, in Loris Karius's case, it did result in a ticket to Istanbul and Besiktas but it did not have a detrimental effect on the manager's rebuilding plans in the summer, it did not result in the break‑up of a richly talented team and it has only hardened Liverpool's resolve to go one step further.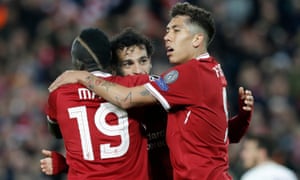 Five consecutive wins at the start of the Premier League campaign have helped silence talk of a Champions League final hangover. PSG, a club who sacked their manager after winning the treble last season and have won each of the past 14 domestic cup competitions, provide a formidable opening test but also an opportunity to strengthen momentum.
"No damage, absolutely not," Klopp said when asked about the consequences of Kiev. "I think we got a lot of respect because of the way we played last season and everyone who saw the final saw we could have won it against a side in a completely different moment. They played with a full squad, a full everything. We had to do it the hard way with our games in the Premier League, because Chelsea were chasing us like crazy.
"People in football saw that. They saw the games we played. They saw City, they saw Rome, they saw Porto; they saw so many games when we played in a really good way. There was a lot of respect.
"That is not too important for me but it is important for the club and the players. The players we spoke to in the summer or a little earlier, they were different talks to those I had the previous year or before. In this moment, it is a different club to the club I joined when I came in. But that was necessary.
"We are in the place where we want to be without being satisfied with anything. We are a challenger and we are a challenger again for pretty much everything, especially in each game. I don't think there is any game in the world where you would say beforehand: 'No chance Liverpool.' That is good. That doesn't mean we will win but that means it is clear we have a chance if we play our best. Last year I said the club was in a good moment. We are still in a really good moment but we are not a little bit satisfied.
"There is nothing in us that thinks that's it. It's good but we want it better for the club and the people and that is what we really try to do."
Jordan Henderson, set to return to the side having started Saturday's victory against Tottenham on the bench, insists last season's final will serve only as motivation.
"It will not have a negative effect on the team," he said. "No one likes a loser's medal, mine is in the drawer at home, but at the same time the experience was good for the team and we can use it in this campaign. It was a brilliant experience that ended in disappointment but you can use that to learn as a team."
PSG have also started with five straight league wins. Tuchel rested Neymar at Saint-Etienne on Friday and had Mbappé suspended but was able to bring in Ángel Di María and Julian Draxler who both scored in the 4-0 victory. They are a team who demand Liverpool's respect but another by-product of last season is that no opponent leaves Klopp's team daunted.
"We have showed that but that doesn't mean anything for this game," Klopp said. "We have to show it again – that's our life. Do all the good things again and again and again. I can't prepare a team to face Paris Saint-Germain without showing them the strengths of Paris. But, on the other side, it's quite difficult to make a preparation, because they have never played against us. We will look different to what they have faced so far this season, that's the truth.
"Will it be enough? I don't know in this moment but I don't have to know. I only think about how can we cause them problems. That's why Champions League football is so cool. You have this outstanding individual quality on the pitch and you think: 'OK, what are we going to make of it?' For both teams that's not guaranteed.
"That's why I love these games so much. You don't only have to think about what are we going to do when we have the ball because the other team gives you possession 80% of the time. For a game like this you have to think about everything."